Are you moving in Salt Lake City to a new home? Much of the time the home is only new to the person taking occupancy. Moving into a previously-lived-in home, you will undoubtedly run into wear and tear around the house. If you have purchased this new home, odds are it is in pretty decent shape, but there is always room for improvement. I would like to offer some food-for-thought that will hopefully inspire those soon to move into a new-to-you home. A little bit of effort goes a long way, and may inspire you to start other home-improvement projects as well. Before your Salt Lake City mover arrives to deliver your furniture, consider the following simple improvements for your new home: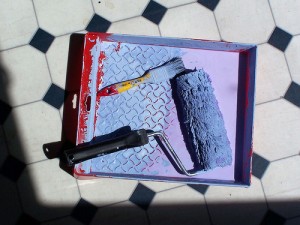 Doors and windows are an excellent starting point. Think about how often you open and close your doors and windows. Over time, these access points do succumb to wear and tear. Replacing the weather stripping along door and window frames is a smart and easy fix as this improves the appearance of your home, and the efficiency of your air conditioning and heating appliances. This should be pretty self explanatory and also very simple to do. As for any hinged doorways; over time a squeak is likely to develop as moisture can cause rust, and friction can cause an accumulation of tiny metal shavings inside the hinges. It is best to remove hinge pins so that the door can be removed and the hinge components cleaned out and lubricated. Any petroleum based lubricant such as WD-40 will work well. Take this opportunity to tighten the mounting hardware on each hinge as these become loose over time. Tightening the hinge screws should fix most stuck doors also. You may want to use sand paper to file down the top and/or sides of any doors which stick even after the hinges have been fixed. Also, survey each doorway in need of new door stoppers. Avoiding doorknob holes in your wall is one way to keep your new home nice!
Light switch and power outlet plate replacement is also a simple effective fix for your new home. If these plates are in need of replacement, you may even choose to upgrade all of them to a different style/color. There are many different styles of switch and outlet plates to choose from, you'll surely find a style that grabs your attention. While you are in the process of removing your old plates, take this opportunity to insulate behind plates on the exterior walls of your home. Energy efficiency repairs are very advantageous and are often simple fixes.
The walls of your new home may be in need of some quick fixes. If the previous owners of your home hung pictures, there may be several nail holes in your walls. These are simple to repair, just apply a small wad of putty into each nail hole and smooth it out with a knife. A fresh coat of new paint doesn't hurt either after your nail holes have been filled. If you notice pealing wallpaper, there is a much quicker fix than fully replacing it. Simply spread a liberal amount of paste on both sides of a note card or sheet of paper. Place the paper applicator between the wall and the wallpaper, and flatten the pealed wallpaper against the pasted paper so that the glue is applied evenly. Then slide the applicator back out from between the wall and wallpaper. Pat down the wallpaper one more time to make extra sure that the paste is well applied and then use a damp cloth to clean any excess paste that may have squeezed out from under the wallpaper.
There are plenty of simple inexpensive repairs you can perform on your new home. The better your new home looks, the more excited you'll be about having your Salt Lake City movers finally deliver your furniture on your moving day. Be sure to hire a reputable Salt Lake City mover so that the walls floors and doors of your newly spruced up home remain in good shape.

This entry was posted in